Kia-Ora,
 Welcome to Food Technology
 Breakfast Club
A big thank you to our Breakfast Club monitors who keep our breakfast
Club running from Monday to Thursday, especially Toby Briscoe from room 6 who has been involved with the Breafast Club for the whole of the school year. It is a big task to organise breakfast and drinks from 8am and to clean up by 8.50am. We would love some adult help for 2021 so that our club continues to run happily and smoothly. We have gratefully received donations of pikelets and muffins to go with our weetbix and milk supplied by Fonterra and organised by The KickStart Breakfast Team. We are always grateful for donations of food, healthy drinks and fruit for the students who leave Breakfast Club content and happy with a full tummy.
 Food Design Technology Practical Work
Once again there have been some outstanding Food Products made which are completed at the end of each Food Technology unit of work. Here are some of the students in action and some of their Final Products. I feel so proud of the students as they develop their cookery skills to enable them to work independently in the kitchen. So please enjoy their cooking and cleaning up skills at home!
Mana Day – Celebration Sundaes
There was a huge response to attend the Mana Day Celebration Sundae
activity. The students were allowed to make a celebration Sundae of their choice and could bring their own ingredients, fancy cups and decorations. I tried to encourage healthy eating, i.e. the inclusion of fruit, without too much success J Lovely to see the students so happy with their results. They could not wait to eat them!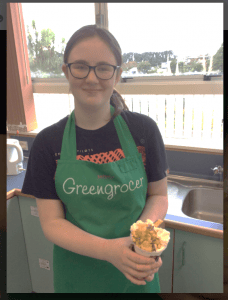 Here is to a GREAT Term 4 and a happy Christmas break!
Ngā mihi
 Ms Lockett