Kia-Ora 
Welcome to Food Technology
Breakfast Club
What a great Year we have been having so far. Our breakfast club keeps us very busy and is now catering for up to 25 students on a daily basis. A big 'Thank You' to our student supervisors and helpers who help to run the club every morning from 8.15am until 8.45am. We have gratefully received various breakfast foods from parents and guardians over the past three terms and continue to have Anchor™ milk & Sanitarian Weet-Bix™ supplied by Fonterra and organised by The KickStart Breakfast Team.
2019 Think Kind Competition
Recently 15 students of our students here at Devon entered the 2019 Think Kind Competition and two of our students were runners up and will be receiving a gift pack. Well done to Kaydence Carpenter and Maya Annane both in Year 7.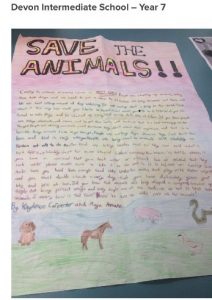 Rina our Japanese Student
During Term Three we were very lucky to have our Japanese student Rina with us for a week in the Food Technology room demonstrating how to make Sushi to our Year 7 and 8 students. The students absolutely loved this authentic experience and were very excited to participate in the practical
sessions.
Food Design Technology Practical Work
As a part of the Food Design Technology process students are required to choose a product which suits the Design Brief and independently plan, make and evaluate the Final Product. Recently Balu Molnar in Year 8 brought in his own Pasta making machine to school and made his very own Pasta dough which he shaped and filled to make Spinach Ricotta Ravioli with a Prawn Sauce. It was very exciting to watch Balu in action and the result and taste of the Final product was outstanding.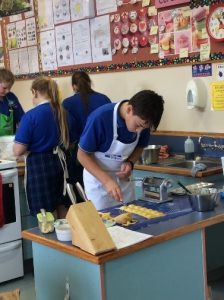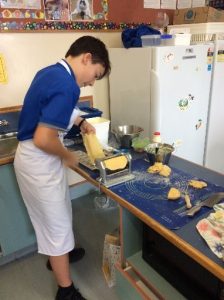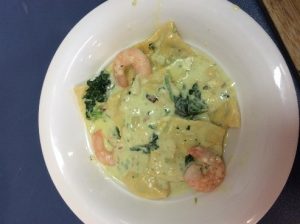 The Year 7 Food Technology Design Briefs are:
Following publicity generated about healthy school lunches, a food manufacturer has asked you to develop and make healthy bread based products that you could pack into a lunchbox.
A local food store wishes to introduce a small range of cakes for customers to purchase for special occasions. Design and make a small range of cakes for the launch of this selling line.
The Year 8 Food Technology Design Briefs are:
Your local bakery is looking to expand its coverage of the pastries it sells.
        Design an original idea that the local bakery can produce.
Due to an increase in foreign travel and the variety of cultures that make up life in New Zealand, many people now want to eat foods from different countries and cultures. Design and make a multi-cultural dish which can be sold and served with a staple food.
Here is to a GREAT Term 4!
Ngā mihi
 Ms Lockett