Nga mihi nunui ki a koutou te whanau o te Kura Takawaenga o Ngamotu.
Nau mai haere mai ki 2016
Greetings to the Devon Intermediate community.
Welcome to Devon Intermediate School 2016
Below is the link to the Devon Brochure that gives some information about our school.
What an amazing two weeks I have had. It has been lovely meeting the students and getting to know the staff and how Devon runs. Following an analysis of what is working well and what we could be doing better, it has been decided that we will not be having the school divided into academies from next year and we will be running straight year 7 and straight year 8 classes. This will allow for extension and support within the year level teams as well as staff utilising their teaching strengths for the benefit of the students learning. I want to assure parents that students will still be offered the same level of opportunities as they have previously had but from next year this will be schoolwide.
Nga mihi
Jenny Gellen
Term 4 Events Calendar
(Week 3)   25 – 28 October
Thursday 27 October                      Standards Athletics
Friday 28 October                           Puanga Festival
(Week 4)   31 October – 4 November
(Week 5)   7 – 11 November
Monday 7 November                     BOT Meeting, 5.30pm
(Week 6)   14 – 18 November
(Week 7)   21 – 25 November
Tuesday 22 November                  Intermediate Athletics @ Hawera
(Week 8)   28 November – 2 December
Thursday 1 December                    Orientation Day @ Devon, 11am – 2pm
(Week 9)   4 – 9 December
Monday 5 December                     BOT Meeting, 5.30pm
Thursday 8 December                    Graduation Ball
Friday 9 December                         Thank You Morning Tea
(Week 10)  12 – 16 December
Tuesday 13 December                   MANA Big Day Out
Wednesday 14 December                 Prize-giving, 10am with students finishing for the year at 12pm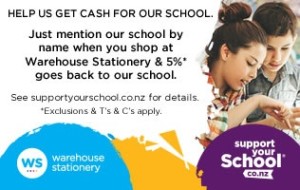 This will be updated as more events are scheduled so check back regularly.