Devon is fortunate to be situated in the heart of a complete socioeconomic society, incorporating agriculture, industry, tourism, recreation, fuel and energy and the service industry.  A distinguishing feature of Materials Technology at Devon is the involvement of pupils in decisions related to solving practical problems leading to the acquisition and development of a range of life long skills.  This creates practical activities that provide opportunities for pupils to experience the "pleasure of making things" in our workshops.  Our community requires that the person of the future will be:  Lateral thinking, innovative, responsible, competent, an active communicator and co-operative co-worker comfortable with new technology.
Facilities
Devon is fortunate to have some of the most up to date Intermediate School workshops in New Zealand.  The layout, design and equipment of our two workshops enable us to cover a vast and varied range of practical activities covering many skills, processes and technological areas.
Aims
To provide workshop experiences that enrich pupils growth and development and encourage them to be imaginative, competent and comfortable with new technology, enabling them to solve everyday problems.
To develop pupil's technological knowledge, understanding and awareness of the relationship between technology and society.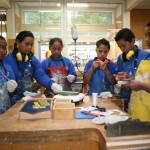 Objectives
Students will:
Become involved in satisfying and enjoyable experiences.
Explore basic principals of design and solve practical problems through the design process.
Develop their ability to communicate using graphic and verbal forms.
Practice and develop skills of craftsmanship on a range of materials.
 Acquire experience in the correct choice, use and maintenance of tools and equipment,
Acquire safe workshop habits and develop a safety conscience.
 Develop knowledge of tools, materials, processes and systems.
Develop their understanding of the influence of materials technology on the environment and people's lives.
Develop attitudes of co-operation and concern for others and the environment.
Develop resourcefulness, perseverance, patience and pride in an honest effort.
Typical progression of a unit of work
The situation is set where the problem is identified.
The "brief" is established explaining what is required and the resources available.
 Investigate and find a solution.
Design and/or make a prototype, evaluate and modify.
Learn appropriate skills and understanding of materials and/or technology.
Make final solution.
Presentation.
Evaluate.